22nd Annual Durham Ranch Buffalo Stampede 5K/10K Walk-Run
Saturday, June 3, 2023
Durham Ranch (4 miles north of Wright on Hwy 59)
Registration begins at 7:30 a.m. – Walkers begin at 8 a.m. – Runners start at 8:30 a.m.
(Buffalo Breakfast Burritos to be served around 9:30 a.m.)
Proceeds benefit the Powder River Energy Foundation charities.
Download Registration Form | Download Sponsorship Form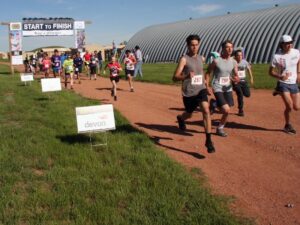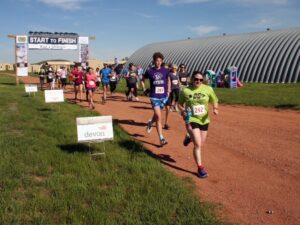 ---
Runners and walkers from northeast Wyoming will return to the Durham Buffalo Ranch for the 22nd Annual Buffalo Stampede, Saturday, June 3.
The charitable fundraising event challenges runners on the open range course near Wright. In addition to the challenge of competing in the 5-kilometer run or walk and 10-kilometer run, participants will have the satisfaction of knowing they helped raise money for some of the most critical community needs in northeast Wyoming.
The event is an annual fundraising effort of the Powder River Energy Foundation. The event organizers and hosts at the Durham Ranch have partnered with the Foundation because of its wide range of giving to local children's charities, feeding the hungry, and helping local veterans, to name a few.
The event draws scores of runners and walkers to the Durham Ranch in Campbell County, four miles north of Wright. Walkers kick off the event at 8 a.m. and runners start at 8:30 a.m. The always-popular Buffalo "Breakfast Burritos" are served at 9:30 a.m. followed by awards for the top finishers in all runner categories and event sponsor door prize drawings. Don't miss out on the final event of the day, the crowd favorite "buffalo chip" throwing competition.