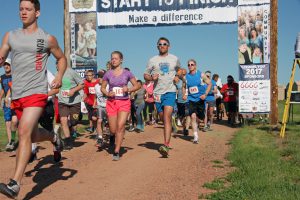 17th Annual Durham Ranch Charity Buffalo Stampede 5K/10K Walk-Run, held on Saturday, June 2nd.
The popular annual charity event raised over $30,000. All proceeds went to the Powder River Energy Foundation, serving those in need of northeast Wyoming with a hand up.
The weather cooperated for big, sunny skies and a light, cool breeze for the walk/run.
There was a great turnout with around 180 in attendance.
Overall women's and men's race champions for both distances took home one of a kind, hand-made clay medallions with bison leather straps by Deb Penning of Baker City, OR., an assortment of Durham Ranch buffalo meat and, gift certificates for the Open Range Restaurant in Wright, as prizes.
After the famous buffalo burrito breakfast served up by Hank's of Wright, the events were capped off by the traditional annual Buffalo Chip Toss where the women's and men's champions each took home a case of Durham Ranch buffalo brats. Arrow Langston, a school teacher from Wright who happened to be celebrating her birthday, won the toss for the women and, Scotty Hayden made the best toss for the men.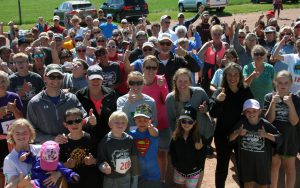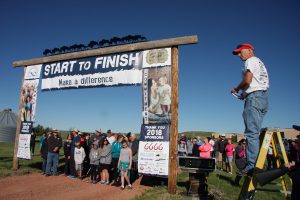 Overall Race Winners
5K Men's: Caleb Schlekeway, Time of 22:34 – 5K Women's: Kristi Racines, Time of 23:43
10K Men's: Adrian Gerrits, Time of 43:21 – 10K Women's: Sarah Glasser, Time of 54:38
Click Here to View all Race Results