We have officially entered our "busy season" here at the Durham Ranch! And this year, once again, we are so fortunate to have some special help to keep us on top things. Molly Shea, a 3rd year Humboldt State Wildlife Biology major, is here for her second year as an intern for the ranch. She happens to be a cousin of mine that has been to the ranch many times with her mom (my first cousin Lori) while she was growing up.
I have asked Molly to write this version of our Durham Ranch Update so, you are in for a treat.
As always, I wish you all Happy Trails and until next time,
John
……………
SUMMERTIME AT THE DURHAM BISON RANCH
It's Summer, with the sun beaming down and hay growing in the fields we couldn't be happier! Haying began in June with everyone in their usual places – Bud on the swather, Jeff on the rake, and Pat & John on the stacker. About a day after starting, we got a HUGE thunderstorm! Like the kind that wake you up at night and keep you up, mesmerized by the strobe flashes of lightning until you can no longer keep your eyes open. Stopped us right in our tracks for haying but luckily, the weather was sunny and warm afterwards, allowing us to start back up again. Here's a picture of John on the stacker, dropping off one of the giant hay bales (or loaves, as I like to call them).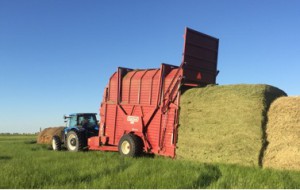 At the beginning of June, we had our annual 5k/10k walk/run on the ranch with all the donations going to Blessings in a Backpack, an organization that helps feed low-income children on the weekends and after school. With the support of many businesses and local donors, we raised nearly $50,000 worth of in-kind and direct donations, enough to fund their organization for an entire year! Plus, we had around 160 folks come out and participate in this year's event as well! I don't know about you, but I'd call that a success!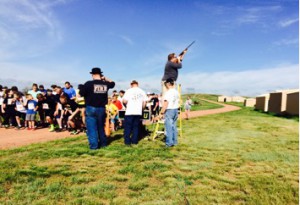 We've resumed our tours, booked through the Gillette and Wright Visitor's Centers, giving people a brief history of the ranch, a walk-through of the corrals, some encounters with local wildlife, like pronghorns and mule deer, and a chance to get up close and personal with the bison (but at a sensible distance, of course). Tours are my favorite part of being an intern because you get to share such a special experience with someone who may have never seen a bison before! It's pretty fun to see their 'ooh-ing' and 'ahh-ing' once we get near the herd. It's an incredible sight to see, especially with the grass being so green!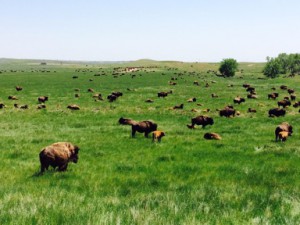 Finally, my big project. The gift shop, "Bisom Bison".  It's been a real whirlwind of inventory, spreadsheets and technology – but a good opportunity to get the ranch up and running in the 21st century! We've gotten all kinds of new items in the store like Wyoming souvenirs and bison horn jewelry, made by John's daughter, Cari! It's really coming along and if you haven't been yet, I highly recommend stopping by! 🙂 If you're more than a hop, skip, and a jump away, check out our Facebook page at www.facebook.com/durhambison!