The 16th Annual Charity Event will be held at the Durham Bison Ranch on June 3rd, 2017.  Registration is now open and you can get your registration form here.  In addition to the 5K/10K walk/run event, there are lots of other fun activities for the day.  Breakfast is always delicious and the chip tossing competition is sure to bring a laugh and a smile!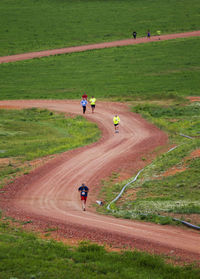 100% of revenue goes to a local charity, and this year's proceeds will go to the Powder River Energy Foundation.  Established a decade ago, the Powder River Energy Foundation has awarded more than $250,000 to scores of organizations in every county of PRECorp's service territory of northeast Wyoming. The Foundation's main focus has been to support local organizations with limited resources for funding such as food pantries, veterans' groups, rural health care, and youth education. All proceeds stay local to our area.
If you have ever wanted to be the presenter of one of those "large checks" become a sponsor!  That opportunity is open for gold level sponsors of the event.  For more details on how you can become a sponsor and receive local recognition for supporting the community, click here.
We hope to see you on the dirt on June 3rd!